Post by bear on Oct 11, 2015 9:13:34 GMT
| | | | | | | |
| --- | --- | --- | --- | --- | --- | --- |
| Stats | | | | Skills | | |
| Strength | 3 | | | Alertness | 4 | Danger Sense |
| Perception | 4 | Deadeye | | Athletics | 3 | |
| Endurance | 4 | Tough as Nails | | Repair | 0 | |
| Charisma | 2 | | | Explosives | 0 | |
| Intelligence | 2 | | | Unarmed | 2 | |
| Agility | 5 | Snake Quick | | Science | 0 | |
| Wits | 4 | Quick Draw | | Guns | 4 | Sixguns |
| Appearance | 3 | | | Speech | 0 | |
| Manipulation | 2 | | | Bluff | 0 | |
| | | | | Intimidation | 4 | Steely Glare |
| | | | | Melee | 1 | |
| Willpower | 7 | | | Medicine | 0 | |
| | | | | Lockpick | 0 | |
| | | | | Sneak | 2 | |
| | | | | Survival | 4 | Master Tracker |
| | | | | Gambling | 0 | |
| | | | | Throwing | 0 | |
| | | | | Scavenging | 0 | |
Perks




Flaws




Well-Geared

2

+2 Gear Points

Hatred: Rapists

2

Must succeed on a WP
roll to not attack known rapists
on sight

Acute Perception

1

-2 to spot DCs

Vengeance: Khans

2

Will stop at nothing to see the
Great Khans destroyed

Ambidextrous

2

Only +1 DC for
dual-wielding















































Gear







Tier



Gear



Stats



T2



Customized Single-Action
.44 Magnum
(Heavy Revolver)



Damage: 6
Range: 40
Rate: 2
Magazine: 6



T2



Customized Single-Action
.44 Magnum
(Heavy Revolver)



Damage: 6
Range: 40
Rate: 2
Magazine: 6



T2



Thick work clothes,
Leather Vest
(Light Armor)



2 DT, 2 DR



























Gear Descriptions

Customized Single-Action .44 Magnums

Roland carries a pair of single-action .44 Magnum revolvers that were custom built for him by the Gun Runners. The weapons have match grade sights and actions and are made of extremely high-grade steel in a stainless finish that is nearly impervious to dust and rust. The six-inch barrels are ported for easy recoil control, allowing faster and more accurate follow-up shots. The weapons are kept in dual tied-down holsters on his thighs, and he has a full cartridge belt for them which he keeps loaded at all times.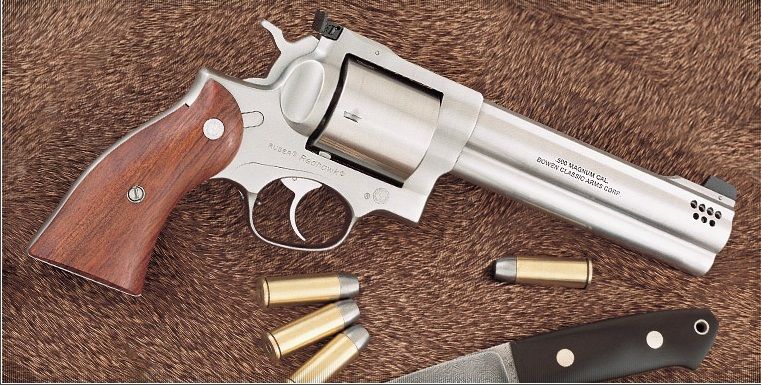 Heavy Clothes
Roland doesn't wear much armor, preferring mobility and being the first to attack in order to avoid damage. He wears simple work clothes such as homespun shirts and thick double-stitched jeans. His only concession to avoiding damage is a heavy leather vest that's been cured with a hard surface, to help turn aside knives and soak up the impact of blunt weapons.

Character Description



Height

6'3"
Weight
220 lbs

Hair
Sandy Brown

Eyes
Dark Grey

Skin
Tanned and weathered

Scars
Knife scar on right cheek

Build
Lean and strong

Notable Features

Roland is a fairly handsome man, with lean, chiseled features and a short, neatly trimmed beard.
The beard is marred by an old knife scar that runs directly down his right cheek. His most notable
feature is the piercing intensity of his cold grey eyes.


Character Story

Born on a Brahmin ranch at the edge of NCR territory, Roland Carrigan's life was both fairly standard and quite happy until his mid twenties. He served his tour of duty with the Army, fighting the Brotherhood of Steel as they were being driven from California, and then came home and married a lovely woman. They set out to the frontier together to start a ranch of their own, carving a home out of the dry dirt of Nevada. It wasn't an easy life, but it was a good one, and she bore him a strong son and a beautiful daughter. This idyllic life ended in tragedy when the Great Khans began their attacks upon NCR settlers. He returned from a hunting trip to find his home burning, his wife and children dead, and the mark of the Great Khans spraypainted onto the side of their poisoned water tank. Rage took him over, and from that moment on, only one goal existed in his life: Revenge. No matter what it took, the Khans would suffer for what they had done to his family. He went after them, spending the next five years hunting the Khans with a single-minded drive that even the toughest of them came to respect. When the Bitter Springs massacre happened, he rejoiced, his only regret that he hadn't been able to be one of the ones gunning down their old and sick. But with their retreat to Red Rocks canyon, his vengeance was slowed, for now he could only target a few stragglers and their drug runners. Lacking options, Roland began to hunt others as well, earning a living as a bounty hunter, until at last most of the tribe of his hated enemies left to the wastelands of the Midwest. Though hatred still burned in his heart, the bounty hunter knew he could not follow them, and instead drifted, trying to find a new purpose in life. His travels bring him to the Oasis, where perhaps that search can finally be at an end.